Increasing Funding Pouring into Vertical Farming Startups across the World
The expanding horticulture LED lighting business marks the development of high-tech farming including vertical farming which has attracted increasing investment recently. Vertical farming companies from Europe and the US have reported funds from worldwide investors.

Berlin-based vertical farming startup InFarm has raised a US$100 billion fund in its Series B investment led by Atomico with other existing investors including Balderton Capital, Astanor Ventures, Cherry Ventures and TriplePoint Capital joining. Founded in 2013, the Germany company has developed the world's largest urban farming platform, aiming to create self-sufficient and sustainable food production in worldwide cities. InFarm has partnered with 25 major food retailers in Germany, Switzerland, Austria and France, providing more than 150,000 plants monthly.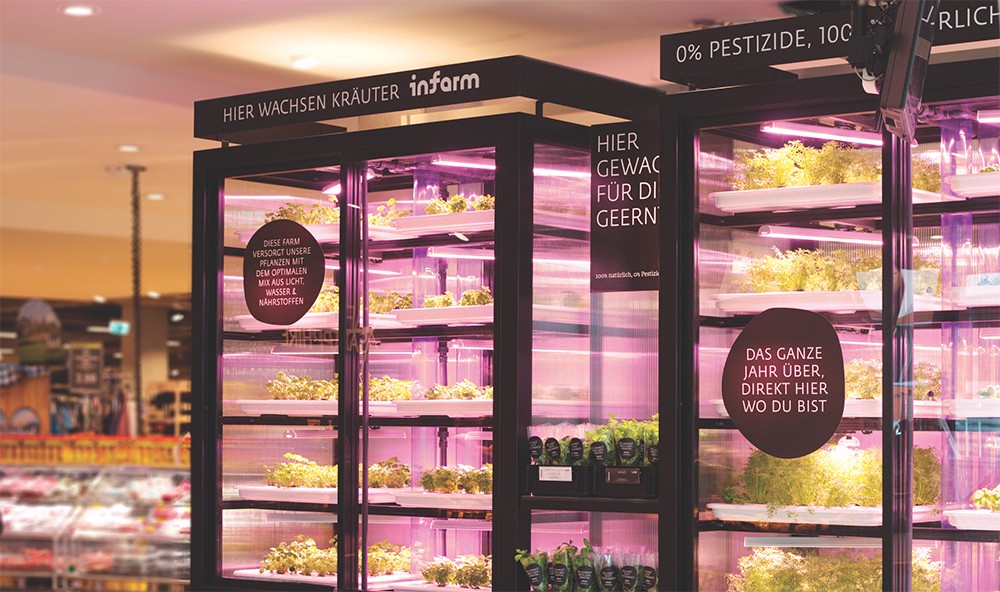 (Image: InFarm)
Meanwhile, Scottish vertical farm technology company Intelligent Growth Solutions (IGS) announced a £5.4 million (US$6.76 million) Series A funding led by US-based S2G Ventures. The investment will allow IGS to extend its business in software development, engineering, robotics and automation.
The company develops vertical farming solutions to boost LED grow light efficiency, enhancing plant production. Its R&D team has developed, patented and productized a IoT-enabled power and communications platform consisting of patented electrical, electronic and mechanical technologies. This technical solution enables the potential for reduction of energy usage by up to 50 per cent and labor costs by up to 80 per cent when compared with other indoor growing environments. It also can produce yields of 225 per cent compared to growing under glass.
Furthermore, Ocado, an online grocery company based in the UK, announced that it investing £17 million (US$21.3 million) in high-tech farming. The investment includes forming a joint venture focusing on vertical farming, named Infinite Acres, with Dutch horticulture technology developer Priva and US-based 80 Acres. In addition, Ocado also purchased 58 percent stake in Jones Food, who grows herbs with LED light-based vertical farm.

With the investment, the British on-line supermarket aims to improve food production with its technology expertise in robotics and AI.